Vertical Rotary Parking ,High Quality automatic parking system,automatic parking
Vertical Rotary Parking system
Product Description
Features and advantage:
1. Easy to operate (parking and retrieve car), easy for maintainence
2. Easy to relocate and reinstall,Very small footprint
3. Least noise and vibration(60-75 decibel)
4. Rarely trouble
5.Low runing cost
6.Low power consumption
7.Small land coverage, high space utilization ratio
8.15-20years useful life
9.Rotates both directions for optimal efficiency
10.Independent operation & multiple enteries in series.
11.ISO 9001:2008 certificates, ISO14001:2004
Operating Principle
The rotary parking system consists of one automated mechanical system, which rotates at an angle of being perpendicular to the ground. It is driven by the motor+chain+chain wheel and runs in a rotating way. When someone wants to park or retrieve car, the needed parking pallet will be rotated to the ground level. Then the car can be parked or retrieved directly.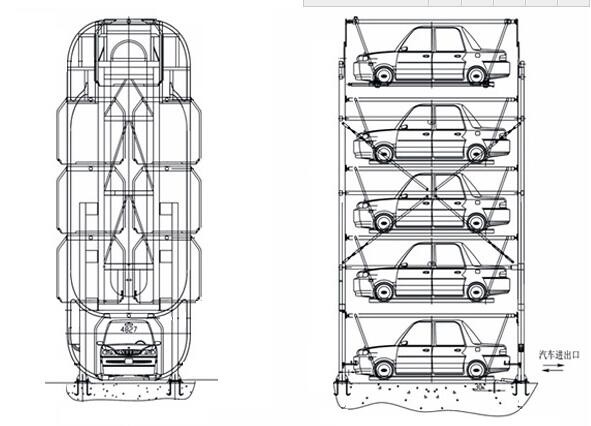 Safety device:
1. Anti-fall device
2. Alarm device for preventing people or vehicle from entering when the machinery is running
3. Alarm device for prevention of exceeding height and length of vehicles
4. Low-voltage, lack-phase, over-current and overload protection device
5. Power-off self-locking protection device
6. Emergency stop button device.

Technical Parameters:
No.

Name

Instruction

1

Vehicle Size

Length(mm)

5000

Width(mm)

1850

Height(mm)

1550

2

Vehicle Weight(Kg)

Max number

Driven Mode

Operation Mode

Power Supply

1850

3

8/10/12/14/16

4

Motor+Chain

5

Manual button or ID card

6

AC380v/220v 50Hz